The Trieste-based Amigos Caffè roasting company makes a debut at Host to present its Il Mingardi S Riserva blend and its new franchising project.
Followng the big debut at TriesteEspresso Expo 2016, the superior Il Mingardi S Riserva blend will also be presented at Host Milano from 20th to 24th October 2017 at the Amigos Caffè stand (Pavillion 22 – Stand M14 N13). The superior blend – created in honor of the founder of Amigos Caffè Severino Mingardi – stands out on account of its strong personality: its aroma, its full-body, its sweetness and its balance characterizing every cup. The new blend is the final result of a project set up late 2015 and carried forward with great resolve by Arianna Mingardi and Claudio Pribetic, determined to materialize Severino's dream – a dream he was unable to translate into reality due to his premature passing away. The founder had long wished to add up a new coffee blend with a new Italian brand name to the classical and established "Amigos recipes". A new coffee blend tasting like an Italian-made espresso coffee. The major project saw the involvement of an espresso coffee professional, namely Edy Bieker of Sandalj Trading Company. Arianna Mingardi challenged her to perform a particularly difficult task: to mix superior coffees into a new blend to remember Severino and to evoke the colour blue, his favourite colour. A memory evocative of the image of a starry and silent sky conveying feelings of calmness, serenity and fulfillment. From the very first sip, Il Mingardi S espresso coffee releases intense aromas of cocoa, croccantino (crunchy almond) and dried fruit to conclude with a captivating smell of orange marmalade. The persistent and prolonged aftertaste too – with hints of almond and raw citrus fruit honey – enhances your tasting experience.
Il Mingardi S espresso coffee turns into a coffee shop: the franchising project
Il Mingardi S blend has been extremely successful not only on account of the superior coffees composing it but also of its brand image. Many Amigos Caffè distributors in fact liked the stand of the Trieste-based roasting company at TriestEspresso Expo 2016 and proposed the establishment of coffee shops/cafés with the same style.
The company worked enthusiastically all year round on the franchising project and designed three coffee shops differing in concept, with Il Mingardi S unmistakable style of 50, 100 and 150 square metres respectively, which will be presented to all distributors and bartenders for the first time at Host at the Amigos Caffè stand. A project that will contribute to spread the memory of Severino in Italy and abroad, the intensity of his beloved blue, his favourite colour, and the elegance of Trieste with its most important symbol.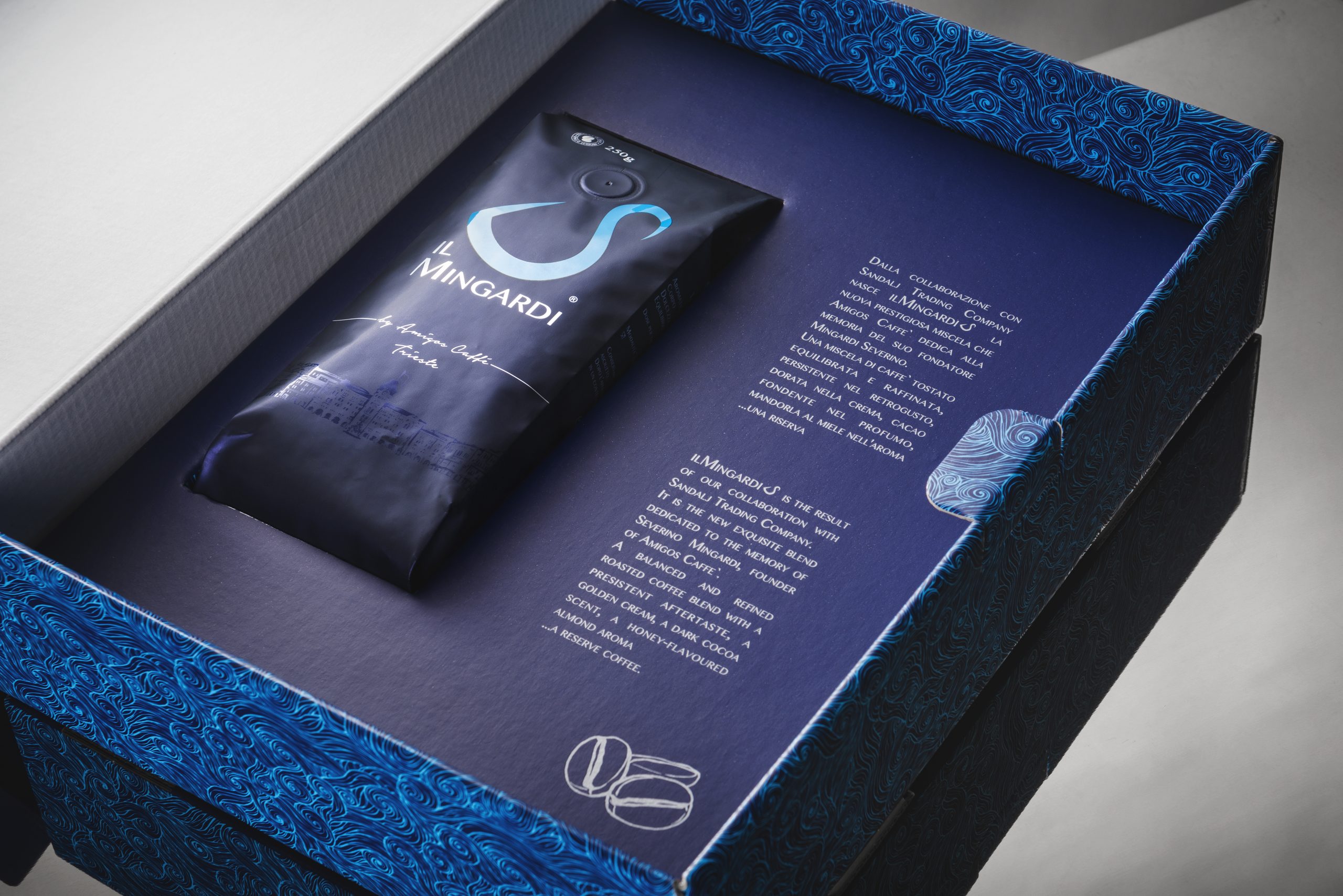 The company
The story of Amigos Caffè began in 1980 in a small 40 square metre warehouse in the suburbs of Trieste. Severino Mingardi, originating from Brescia, and his wife Maria Sincovich bought an old, second-hand 30 kg roasting machine and a manual packaging machine. Shortly thereafter the Amigos Caffè coffee bean with a Mexican sombrero hat was created. The company grew down the years, its manufacturing premises changed twice. From 1999 to 2005 the company established its premises in a 11,000 square metre area, with 5,000 square metres used as production and warehouse premises. Today the roasting company is led by Arianna Mingardi and her family, has 15 employees and a product line of 10 coffee blends, works also for third parties and produces 1,600 kg of coffee per hour. Amigos Caffè is a very popular brand abroad, known from Greece to Russia and in all Central and Northern Europe.
The official website of Amigos Caffè is: www.amigoscaffe.com
and www.ilmingardis.it
is the website devoted to the Il Mingardi S Riserva blend.
For further information and appointments at the trade fair please contact:
Press Office
esPRESSo comunicazione
Benedetta Gargiulo mobile no.: +39 347 5214125
Sara Morassut mobile no.: +39 340 6521368
Office phone No.:+39 040 773224
info@espressocomunicazione.it